Taiwan Special food(茶木‧台式休閒餐廳 (九龍灣)
圖片
精選
For a time, Hong Kong and Taiwan may have seemed interchangeable, but they are actually quite different,
lt's my first time to try Tea Wood Taiwanese Cafe .
FRIED CHICKEN FILLET
which chicken breasts cut into strips. Chicken breast must be the most versatile meat.
It is a white meat with very little fat and it is the perfect cut slice up in stir-fries. First, There's that hot, crunchy,
and crisp crust, and you can see fried to golden-brown perfection.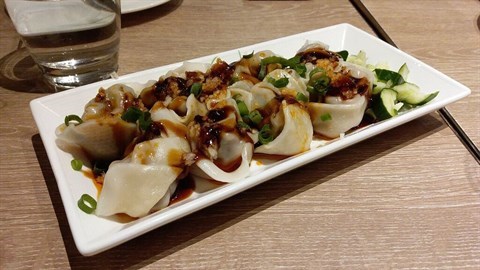 and next as called HOT WONTON ( SPICY)
This is my favourite food, i really love them. all of dumplings are spice spicy up and tender pork wontons.
These are very slippery and slick, juicy and tender.
$52 TAIWANESE STYLE BBQ SAUSAGES
This BBQ sausages are air dried and have a rich flavour of pork, it very sweet that enhances the sausages flavors
http://static5.orstatic.com/userphoto/photo/H/DGS/02NRBT0A82706E1CFA06CEl.jpg
茶木‧台式休閒餐廳
網址: https://goo.gl/0niu29
地址: 九龍灣牛頭角道77號淘大商場三期地下G301-G320號舖
電話: 2806 3087
-------------------------------
Trythebests
Food | Discount | Promotion
Blog: http://ttrythebests.blogspot.hk/
Instagram: https://www.instagram.com/trythebests/
Facebook: https://www.facebook.com/trythebests/
Email: ortrythebests@gmail.com